Friendly young folk.
I'd also like to officially introduce to all you Icelanders a new word I created: kindaljósfaðir. That is a male person helping sheep to give birth to lambs. It's the logical modification of the most beautiful Icelandic word ljósmóðir (literally: light mother, a midwife).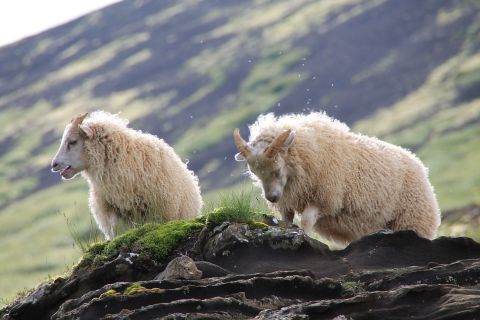 Gute Gründe Island einen Besuch abzustatten #15
Eine freundliche junge Bevölkerung.
Übrigens: wenn man in Island kind ißt, verspeist man Schaf1 und nicht etwa menschlichen Nachwuchs. Gleichermaßen verwirrend ist für manchen Ausländer daß Isländer öfter mal über sex reden, obwohl sie nichts anderes als die Zahl Sechs im Sinne haben.
Zum schönsten isländischen Wort ljósmóðir (Hebamme, wortwörtlich: Lichtmutter) habe ich noch eine Erweiterung anzubringen. Einer meiner Kollegen hilft in jedem Jahr auf dem Gehöft seines Vaters Lämmer auf die Welt zu bringen. Er ist also ein kindaljósfaðir (wortwörtlich: Schafslichtvater, also die männliche Entsprechung zur Hebamme, aber für Schafe).

EN: The images and/or photos in this blog article are licensed under a Creative Commons Attribution 4.0 International License
DE: Die im Blogbeitrag gezeigten Bilder und /oder Fotos sind lizensiert unter einer Creative Commons Namensnennung 4.0 International Lizenz>
bzw. Lamm [↩]